---
Balancing work and family is difficult enough without having to do chores after a long busy day. If you'd like to tick some items off your list easily and quickly, hiring a top-notch cleaning service in Queens is your best bet. However, before you sit back and let a team of expert cleaners take care of business, you'll have to learn how to choose the best cleaning service that suits your preferences.
If you're tired of subpar cleaning, you've come to the right place. In this article, you'll find out what features to look for in professional cleaning services as well as how to identify the best service in your area. With specialist assistance, your residence will always be spotless.
What to look for in cleaning services
Finding a cleaning service that meets your needs can be a tall order. Here are a few things that you should investigate before you book your clean:
Is the company positively reviewed or recommended by friends?
There's nothing as dependable as word-of-mouth recommendations. Ask friends and family if they can suggest a trustworthy cleaning crew they've had experience with. Also, look up the company online and check out customer reviews.
Do they have a customer-oriented approach?
Reputable cleaning services care about customer happiness, so they provide a satisfaction guarantee. This way, the clients can expect a free-of-charge re-clean in case they are unhappy with the results of the cleaning. The company should be willing to listen and accommodate your requests.
What cleaning products do the cleaners use?
Check if maids bring their own supplies. If they do, make sure that their cleaning products are safe and efficient, as well as environmentally friendly. When you consider what the advantages of green cleaning are, you'll never go back to harmful cleaning products. Learn more about greening your purchase of cleaning products.
How are the maids selected?
Make sure that the company's team consists of trained and accomplished experts. The cleaners should be background checked, interviewed and assessed for relevant skills. Your maids should be reliable individuals who you are comfortable letting into your home.
What is the company's pricing and payment system?
Check out the company's range of services and rates for each. Then, request a quote to see how much you would be charged for your particular service. The payment platform you'll use should be safe and user-friendly.
How do I find a good cleaning company?
No amateur is able to do what a professional cleaner does in a couple of hours, so working with renowned cleaners is extremely helpful and time-saving. But how do you come by such a coveted asset? It's best if you get recommendations directly from reliable sources. Alternatively, browse the web for top-rated local companies and do your research to see if they meet your criteria. When you contact the service to inquire about the details, your questions should be handled professionally and promptly. These are some of the most important signs that you're in for an amazing customer experience.
What is the most dependable cleaning service in Queens?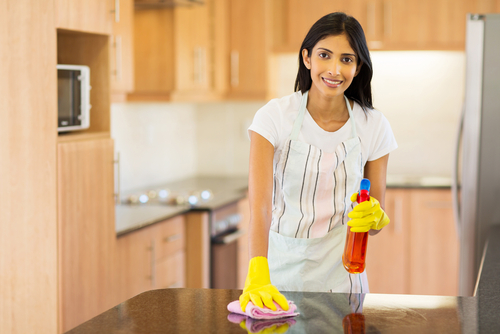 When you need outstanding cleanliness, turn to Checklist Maids Queens NYC. Schedule your cleaning session effortlessly and simply wait for the crew to show up. They'll arrive fully equipped with highly effective and perfectly safe eco-friendly products. You can go swimming in Astoria Park while your home is getting a detailed makeover.
Each of the cleaners we'll put you in touch with goes through a stringent vetting process. The maids are interviewed and tested to make sure they possess the skill set necessary to perform top-notch cleaning. Whether you require standard, deep, post-renovation or move in/out cleaning, these cleaning go-getters will be there to deliver. We are all about customer experience from start to finish. Contact us and see for yourself!
---
---