---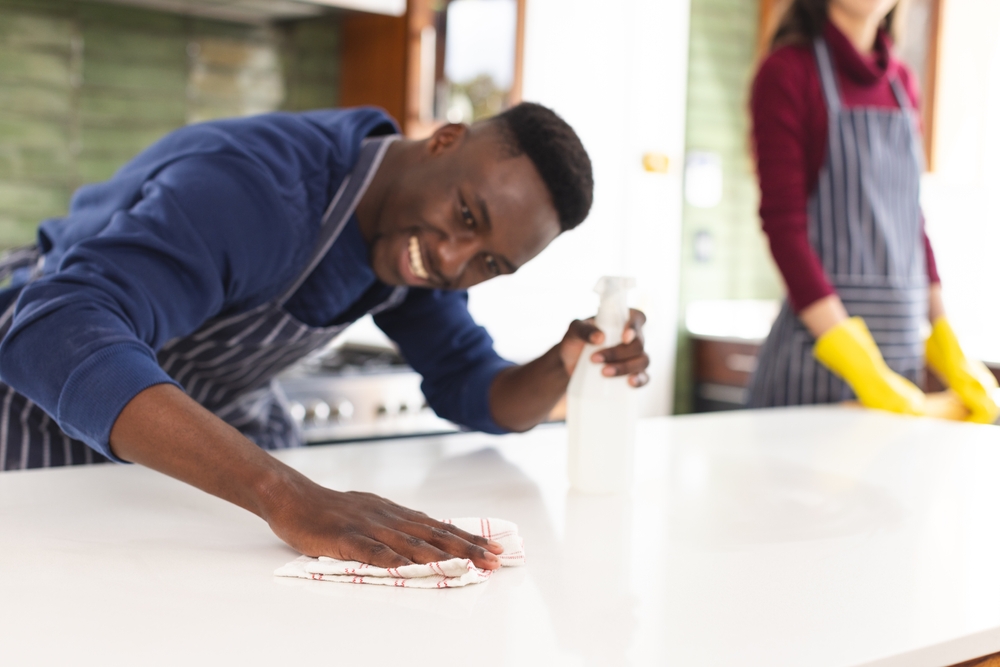 Countertops tend to be one of the largest and most frequently used surfaces in any kitchen. As a result, they tend to require frequent cleaning. Unlike most other kitchen surfaces, however, countertops come in a variety of different materials and types, many of which have their own unique cleaning needs.
While outsourcing this chore to a dependable green house cleaning service from Rego Park, NY, is never a bad idea, most homeowners should still learn how to carry out this task on their own. In the article below, we'll help you do just that by providing you with a simple 6-step countertop cleaning guide. Read on!
How do you clean countertops without streaks?
Have you ever wiped your countertops only to see unsightly streaks emerging? Well, the trick is to use the appropriate cleaning tools and supplies. Here's a quick 6-step guide on how to go about this task:
1. Get your supplies ready.
For this mission, your cleaning arsenal should include several microfiber cloths, a clean spray bottle, some lukewarm water, and a non-aggressive cleaning agent. Even though microfiber cloths are synthetic and don't fully comply with green cleaning postulates because they aren't biodegradable, they're a popular trend for a reason.
They're positively charged and thus excellent at trapping negatively charged impurities without harsh chemicals. If you prefer homemade alternatives, you can combine equal parts white vinegar and water in a spray bottle. White vinegar is beneficial for the kitchen environment due to its mild antibacterial properties and superb dirt-removing power. However, please note that vinegar should never be used on your granite countertops. Vinegar is composed of acids that can severely harm your granite. Even if you dilute it, vinegar may still leave acids on your granite countertops which can cause the natural stone to etch.
2. Clear the area & prepare it for detailed cleaning.
Put all the items aside to obtain direct access to the surface you're about to deal with. If you notice any loose debris, grab a microfiber cloth and wipe everything away from your countertop. This step is crucial as you won't additionally smear the area.
3. Apply the agent of your choice.
Spritz the product on your microfiber cloth – not directly on the countertop (read the label carefully to see how it's used). Make sure not to oversaturate, as excess dampness can damage the surface. Also, if you have marble or granite countertops, don't use white vinegar since its acidity can mar them. Add a few drops of gentle dish soap into warm water and apply the mixture. Finally, let the agent have enough time to cut through grease and dirt.
4. Start wiping.
Take a dampened microfiber cloth and wipe the surface in one consistent direction. Don't make any random or circular motions, as this can leave streaks. Make sure to remove all traces of the cleaner you used. You'll need to rinse the microfiber cloth frequently, and sometimes more than one will be necessary, depending on how dirty your countertop is.
5. Dry the countertops.
Get a new microfiber cloth to dry the countertop thoroughly. Again, don't make any inconsistent moves and follow the same direction. This procedure will help you get rid of the moisture and give you the streak-free look you've been striving to achieve.
6. Scrutinize the countertop.
This final step is to ensure no unattractive streaks are left behind. You'll need to inspect your countertop under good lighting to detect any unpleasant lines. Should you notice any, you'll need to repeat the entire process.

Who offers a dependable green cleaning service in Rego Park, NY?
Don't know much about the latest technologies in cleaning? Would like to go green but have no time to experiment with eco-friendly alternatives? Checklist Maids is a reliable referral company to call.
We work with exceptional pros who undergo a strict background check to ensure they fully understand how to protect the environment and your health. Have a blast at Barrier Playground with your family and friends, and let top experts tackle the grime in your living space in Rego Park. Book an appointment now!
---
---