---
Pets are an invaluable source of pleasure for all of us. They can make us laugh, feel relaxed and forget about our daily struggles. But this joy comes with a price. Pet dander, hair, and muddy footprints are every pet owner's reality. 
You probably find it so challenging to keep everything under control in your household. But actually, good organization and being observant are crucial here. Professionals who offer maid services in Forest Hills, NY reveal five clever hacks on how to clean your home with pets in the article below. Keep reading to learn more! 
How do you clean your house with pets?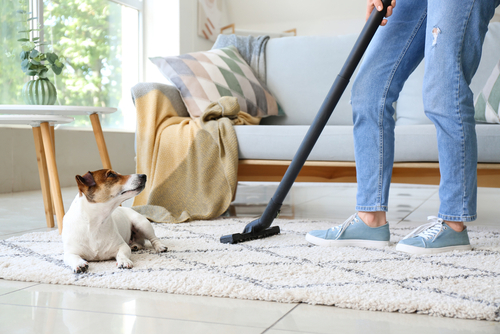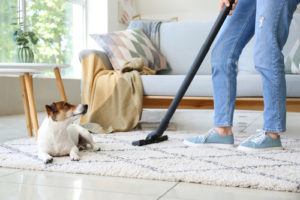 Our little furry friends sometimes leave traces wherever they go. Be it their hair or footprints, these marks can really make your home maintenance time-consuming. However, the following five tips and tricks can help you stay on top of your home hygiene obligations. Check them out:
Make sure you have a good vacuum cleaner
You'll need a powerful suction vacuum cleaner that can remove large amounts of hair from all surfaces and can't clog easily. Also, it should come with an easy-to-empty filter, be moveable enough to reach all hard-to-reach spots, and have attachments for treating upholstery. Finally, it shouldn't be too noisy as you don't want to potentially scare your pets.
Take care of your pet's hygiene
Brushing your furry pets is essential as it can reduce the circulation of hair throughout your house and helps your pets maintain healthy coats and skin. 
If you have a dog, make sure to wash it regularly. Check with the vet about the best washing schedule for your dog's breed. You can take your dog to a groomer to trim and brush its hair too. Also, make sure to clean your dog's paws after every walk. 
Keep their bedding and housing clean at all times.
Neglected beds and living spaces can quickly lead to heavy dirt build-up, germ accumulation, and unpleasant smells. That's why it's crucial to regularly tend to cushions, beds, rugs, cages, and other areas of the home typically occupied by your pets. 
If you don't want trouble with unpleasant smells from your kitty's litter box, take proper care of it. Clean it and add fresh litter every day. You can invest in a hooded litter box, too. Besides containing stray litter and smell, it also gives your cat a sense of privacy. First-rate absorbent bedding materials can also minimize the odors.
Treat stains immediately
If accidents happen, you should act immediately as you don't want to stain your carpet with urine or vomit. First, you need to blot up as much as possible. Then, mix one cup of white vinegar, two tablespoons of baking soda, and one cup of warm water in a spray bottle and apply it to the affected areas.
Purchase the right cleaning products
When cleaning around your pet, ensure the products you choose are pet-safe. You need to read the labels carefully and scrutinize the ingredients. Harsh cleaning products like bleach can do a lot of harm to your pets, so make sure to avoid them. 
If you're a DIYer and prefer to steer away from store-bought products, old-school ingredients such as white vinegar and baking soda should be safe for your pets. They're toxin-free and effective at stain removal. 
However, you should always consult your vet on what substances aren't dangerous for your pet just to be on the safe side. Be aware that even some essential oils can be detrimental to some animals (for instance, birds and cats are sensitive to them).
Where in Forest Hills, NY, can I find reliable maid services?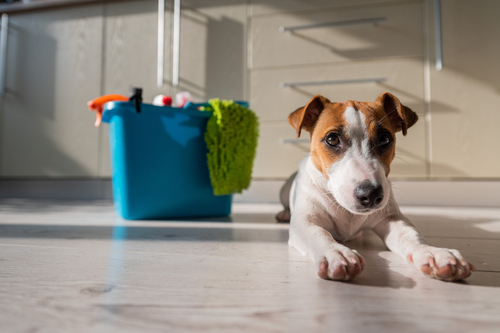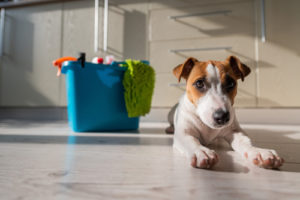 Do you need to deal with clutter in your home in Forest Hills, and the idea of spending your free time cleaning stresses you out? Can't get rid of your dog's hair: it seems to be everywhere. Well, what are you waiting for? Call Checklist Maids, your go-to home helpers.
We're a locally owned company that cooperates with the top industry professionals in the field. They'll dust, vacuum, wipe, and disinfect your living space cautiously while you take a relaxing stroll at Forest Park. Book now!
---
---