---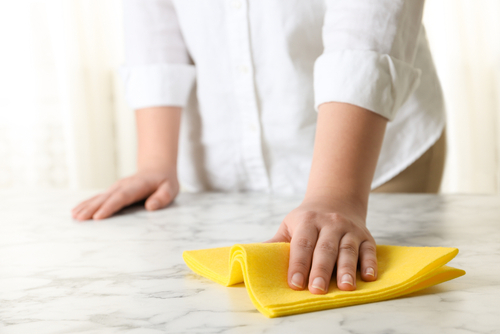 Marble is one of the most sophisticated looking, environmentally friendly materials which introduces a sense of elegance into your living space. But it has a downside:  it is porous – meaning that liquid and stains can easily work their way down into the surface. That's why maintaining marble at home is a rather delicate business.
So, if in doubt about how to attend to marble surfaces properly, why not hire a house cleaning service from Rego Park, NY? Professionals will know how to get rid of any stains right away.
However, you can't call a cleaning expert to help you at 2 am after a party full of spill accidents, can you? That's why we have prepared a short guide on how to keep your marble intact. Keep reading to learn more!
How to keep marble white?
Before you clean your marble at home, always check the manufacturer's recommendations. Usually, you'll only need mild dish soap and water for basic daily whitening and brightening. Just make sure to wipe away any residue that may lead to a dull streaky finish, and always remember to hand-dry the surface as air drying can leave it spotty.
How do you get stains out of the marble top?
Even though you are extra-cautious with your beloved marble top, spills do happen from time to time. But it's not the end of the world! You can still restore the marble's flawless white appearance by using careful cleaning methods that enhance its true beauty. You just need a marble poultice.
To prepare a marble poultice, mix a poultice material (kaolin, Fuller's earth, diatomaceous earth, powdered chalk, white molding plaster, whiting, talc, flour, etc.) with water, mineral spirits, hydrogen peroxide, or acetone, to get a spreadable paste. Apply the paste to the stain and its surrounding area thoroughly. Next, completely cover the area with plastic wrap taping down the edges. Let the paste sit and dry, and finally, wipe it away with a damp microfiber cloth. Repeat the process if necessary.
Bonus Tips:
Pay attention to the type of stains. For oil-based stains, use a poultice with a powdered poultice material and mineral spirits. For organic stains, apply a poultice with a powdered poultice material and a 6% hydrogen peroxide solution.
Prevent staining the marble in the first place – reseal marble surfaces every six months as this will repel stains and water absorption, put coasters under cups and glasses, avoid placing metal containers directly on the marble surface, don't let citrus or alcohol products sit on the surface, etc.;
Make sure to wear gloves to protect your skin;
Always test marble cleaning products on a small inconspicuous area beforehand;
Don't use acetone on light marble or hydrogen peroxide on darker stones;
Don't use baking soda on your marble tops since it is mildly abrasive and can damage them over time.
Avoid using bleach for cleaning marble as it can dull and etch it.
Don't mix whiting or iron-type clays such as Fuller's earth with acid chemicals as the reaction will cancel the effect of the poultice.
Who offers efficient house cleaning services in Rego Park?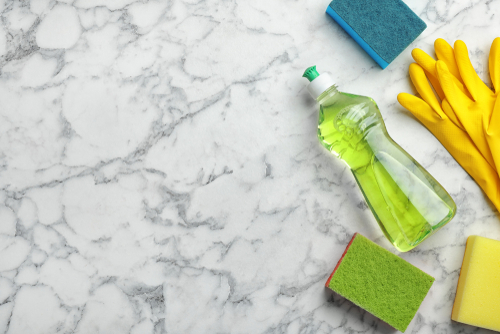 Cleaning marble seems terrifying indeed, especially if you fear experimenting with harsh chemicals in your home. But don't worry because this is where we jump in! Checklist Maids' cleaners boast incredible experience in dealing with grime and dirt. And they will do everything to protect your health at home as they don't apply any harmful cleaning products (we also do not use ammonia in the cleaning process).
So, whether you need regular clean-ups or deep-cleaning of your shower or any other area in your house, don't hesitate to reach out! Enjoy various recreational activities at Juniper Valley Park, while we make your home fresh, clean, and healthy. Book without much hustle in only 60 seconds. We are waiting for you!
---
---