---
With all the threatening viruses and bacteria out there, you know your home hygiene is crucial for the protection of your health. You are determined to win the battle against these invisible invaders, so you google enthusiastically to gather some useful advice.
In the sea of information, the fact that cleaning and disinfecting aren't the same process attracts your attention. You also come across various products, but you're suspicious about their safety. Also, it seems time-consuming to first clean and then disinfect, so you'd rather rely on a reliable cleaning service in Manhattan to do the job for you.
But, disinfecting your home is nowhere as tricky as it seems. Keep reading to discover how to manage it safely.
How to properly and safely disinfect your home?
To disinfect your home thoroughly, you first need to pay attention to the difference between cleaning and disinfecting. When you clean, you just remove all the visible traces of dirt. But when you disinfect, your goal is to kill all the germs once and for all.
Check out these handy tips:
Before applying any disinfectants, get rid of dirt. Wet dusting and vacuuming are perfect for the purpose. That way, you will prevent loose dust from circulating in the air.
To avoid irritations and nausea while disinfecting, ventilate the room adequately.
To protect your skin, wear disposable gloves. Always keep a new pair of gloves close at hand.
To avoid any health hazards, use EPA-approved disinfectants conscientiously following the manufacturer's application directions. Remember to keep all cleaning supplies out of reach of children and pets at all times. You can also try out safer alternatives based on natural ingredients or make DIY cleaning products which you know are harmless yet effective.
Avoid mixing chemicals since it can cause undesirable consequences.
What can I use to disinfect my home?
When it comes to disinfecting your home, you have various options. The market is full of products which guarantee almost 100% success, but there is a downside: these products are potentially harmful as they leave dangerous residue. However, you can always resort to environmentally-friendly natural alternatives, many of which are probably under your nose as we speak.
They indeed tend to take more time to achieve the desired results, but they can be equally effective if applied properly. It's important that you let the solution on the surface sit a little bit longer to eliminate germs more efficiently.
The following is a list of natural disinfectants you could give a try:
Ethyl alcohol and isopropyl alcohol are excellent disinfectants at 70% concentration. Mix them with aloe vera gel for a homemade hand sanitizer, or use undiluted to eradicate germs, including influenza viruses and coronavirus.
Vinegar is made up of 95% water and 5% acetic acid, which kills about 80% of germs, including E. coli. To increase its germ-banishing power, use vinegar with a higher acetic acid concentration.
At a 3% concentration, Hydrogen Peroxide is suitable for your laundry, bathroom and kitchen cleaning, greasy pots and pans, and kids' toys. Use it as a spray, create a paste with baking soda, or use it for soaking. The options are endless. Just avoid mixing it with vinegar as they cancel each other out.
Essential oils, such as tea tree oil and lavender oil,  have natural antibacterial, antiviral, and antifungal properties. Mix them with other natural disinfectants to enhance the disinfecting properties and create a refreshing scent. To avoid impurities, artificial preservatives, and pesticides, use only organic essential oils.
Who offers the most reliable eco-friendly cleaning service in Manhattan?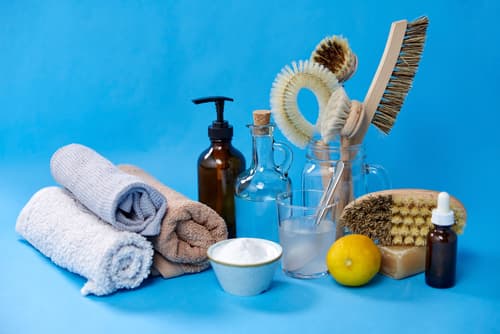 If you care about the environment and have doubts about cleaning products and their potentially dangerous effects, you can stop racking your brain now! Checklist Maids is here to respond to your cleaning needs. Whether you need us every week, or for a one-time cleaning, we'll save you from health-threatening fumes with top-quality eco-friendly products.
Have a blast with your friends at a rooftop lounge with a view of Times Square while we tackle the dust and dirt in your home professionally. You will be pleased with the results confident that no toxic chemicals can disturb your peace or compromise your health. So, do not hesitate and give us a call so we can get to work and make your home thoroughly clean, fresh and healthy! 
---
---

GET UPDATES
No charge. Unsubscribe anytime.