---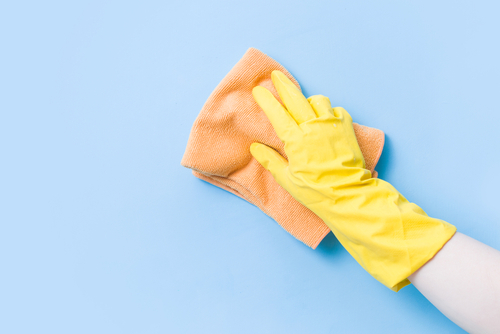 Cleaning your house in Manhattan may be excruciatingly demanding indeed. Especially if you aspire to maintain your home tidy all year round. 
When you observe your living space, you probably see how much effort you need to invest daily to keep it decent. The never-ending list of duties may be frustrating, and you surely wish you didn't have to scrub and disinfect thoroughly so often. And who can waste time storing all those cleaning products properly every time? 
Well, it's true that some areas in your home, such as kitchen counters, require your constant attention. But, luckily, this is not the case with every corner in your house. For instance, you only need to deep clean your carpets twice a year. 
But some tasks need to be done only once a year! Keep reading to find out what they are.
What areas in your home can you clean just once a year?
The only comfort you may find in your ambitious cleaning schedule focused on creating a healthy home environment is that, once you are done with certain chores, you don't need to revisit them until the next year. You actually have the luxury to wait a whole year before you have to do it again.
So, let's see what your once-a-year to-do list includes:
Wiping down windows on the outside:  This is especially important if you live in an urban neighborhood with lots of pollution and heavy traffic. Using a brush or a handheld vacuum, sweep the dirt off around the frame. Wipe horizontally until dry with a spray cleaner and lint-free cloth.

Washing your walls: Walls are often overlooked on the cleaning schedule, but you should definitely have those germ-infested walls scrubbed at least once a year, especially if you have toddlers.

Washing your curtains and drapes: This fabric collects dust just like any other, so do remember to wash your curtains or drapes once a year, whether by washing them yourself when doing laundry or taking them to your local dry cleaner for assistance. You can also remove some of the dust by vacuuming.

Freshening up upholstery. (Consider hiring a professional to do this). Begin with vacuuming thoroughly, and then apply a DIY white vinegar solution (½ tablespoon of liquid soap, ¼ cup of white vinegar, and ¾ cup of water). Make sure to test it in a hidden spot to see how it works since vinegar can damage delicate fabrics. Rinse with water, and let it dry.

Freshening up your mattresses. Again, start with vacuuming. Then, spot-treat any stains with a solution of mild dish detergent and water. A soft brush is a great prop, and make sure to clean from the outside of the stain toward the center to avoid spreading. Rinse the treated area with a cloth dipped in clean water and then dry thoroughly. To speed drying, use a hairdryer set on low heat. Finally, flip the mattress over, or rotate it so that it wears evenly.

Wiping down outdoor furniture. All you need is some detergent and warm water. Wipe down tables and chairs with the solution. Wash it off with water from the garden hose.
Will it suffice to clean my appliances once a year?
There is a long list of cleaning tasks and mini projects to put on the list of myths to be debunked, but appliance cleaning is definitely on top of that list. Most homeowners assume they should clean their appliances just once a year, but nothing could be further from the truth. 
For instance,  did you know you should clean your coffee maker, microwave oven and garbage disposal thoroughly once a month and, if possible, clean the refrigerator inside and out every three months or so?
It is of paramount importance that you clean all your appliances on a regular basis for at least two reasons: your health and the performance and functionality of the appliance.
Attend to your dishwasher
Over time, grease, detergent, and bits of food get stuck in your dishwasher. And there is the odor, too. So what can you do to prevent a buildup of germs and maintain the machine's efficiency?
To keep your dishwasher in excellent working order, give it a regular deep clean. You can do it once every 3 months or once a month, depending on usage and how much time you have.
First, run a cycle with nothing except a cup of white vinegar to eradicate the dirt. Then, sprinkle a cupful of baking soda across the bottom of the appliance, and run it on a short hot-water cycle. Baking soda will wipe out all food smells vinegar could not.
Clean your washing machine
Your washing machine can be a breeding ground for germs, which is why it will warn you when it's time to have it cleaned. The indicator will go off every 1-2 months if you run a large household. If you live alone, you will probably need to do it once every 3 months. However, if you want to be extra careful, you might want to clean this and your other appliances on a monthly basis. 
To clean your washing machine, pour 2 cups of white vinegar into your machine's detergent tray or the wash drum. Run a wash cycle using the hottest water. Then, run an additional rinse cycle to flush out any remaining grime or residue. Finally, take out all the removable parts and soak them into a bucket with warm, soapy water for a few minutes. Scrub each piece with a sponge, rinse, dry, and return to its original position. Don't forget to wipe the front door with white vinegar too. 
Vacuum your dryer
To clean your dryer, vacuum in, around and under it as much as you can and as far as you can reach into each end of the duct from inside and outside the house. There are accessories such as snakes or long brushes which are specifically designed to facilitate this process.
Vacuum around vents and get behind the appliances
Vacuum the refrigerator coils, wipe the rear surfaces with a slightly damp cloth, and clean the dryer vent. Finally, sweep the floor behind the appliances. Be careful not to disconnect any gas or water lines when moving appliances. Do not forget to vacuum around the vents, too.
Who offers outstanding eco-friendly house cleaning services in Manhattan?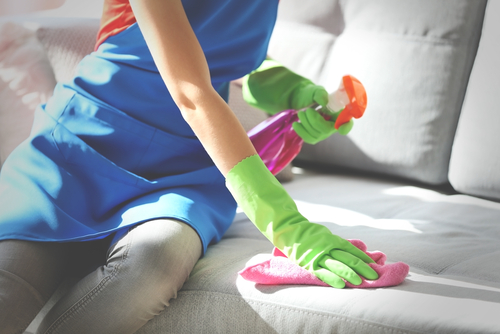 Just because you can afford to do some of the cleaning once a year does not mean the task will be effortless. Often, it takes elbow grease to achieve your desired results. That is where we come in!
If you need some professional help with your cleaning obligations, Checklist Maids will be delighted to offer you a helping hand. We have experience in eliminating all sorts of dirt, and our green cleaning methods will make a real difference in your home.
So, take your friends for a meal at Hard Rock Cafe, and enjoy the unbelievable collection of music memorabilia, while your home is in our safe hands. Schedule an appointment today, and we will get down to business straight away!
---
---