---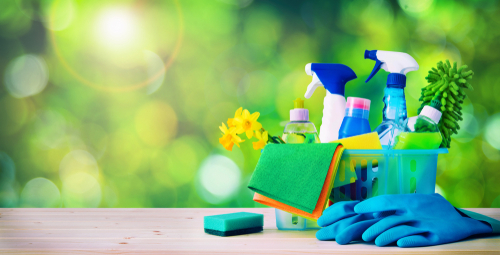 You have just finished with your regular clean-up, and a feeling of pride overflows you. Your home looks spotless and shiny again. Now, all you want to do is to relax and enjoy the splendor of your refreshed house. 
But something gets in the way: a bucket full of cleaning products and accessories. Oh, if only you had hired the most reliable maid service in Manhattan to do the job for you! You wouldn't have to deal with all these cleaning supplies now. 
So, to get rid of them quickly, as you don't want to spoil the moment, you just toss everything under your sink in the kitchen or bathroom. And forget about it until the next time you need to scrub your home. 
But did you know that storing your cleaning products is as significant as proper cleaning and disinfecting are?
Keep reading to discover why your cleaning supplies need to have a special safe place in your house.
Why is it important to store your cleaning supplies properly?
If you want to maintain a healthy environment in your home, it's essential to store and organize your cleaning supplies conscientiously. If you're using conventional products, they contain numerous hazardous substances that may cause substantial damage if used recklessly. They also give off various fumes that can irritate your eyes or throat or cause headaches, and other health problems. And most importantly: you don't want your kids and dogs to get poisoned. 
If you lack ideas on how to store your cleaning products wisely, keep reading to learn some useful tips and tricks. 
How do you store cleaning supplies?
When it comes to storing your cleaning products, the most significant factor is the well-being of your loved ones. To play it safe with these dangerous substances, check this out:
Keep your cleaning supplies out of the reach of children and pets all the time. Don't rely on childproof bottles, as nothing can stop a determined child. So, consider hard-to-reach or locked storage options to put your mind at ease. 

Store cleaning products in a dry and cool place to avoid any undesirable chemical reactions. Make sure that there aren't any temperature extremes that may influence cleaning solutions and their effectiveness. So, be extra careful not to leave them near any source of heat. 

Keep cleaning supplies in their original containers. This way, you can always refer to the instructions on how to properly and effectively use them. You can also check their expiration dates. This is crucial since expired cleaning solutions may become more toxic over time. Once a cleaning solution has expired, dispose of it according to the recommended instructions.
A pro tip: instead of scattering your products in different cabinets all over your house, you could designate a safe ventilated area where you can hold all of them. It could be inside the bathroom, garage, laundry room, or even hallway. Invest in a spacious cabinet or cupboard and keep it under lock and key. Just remember to clean it often, and air the area regularly! 
Where to find a professional green maid service in Manhattan?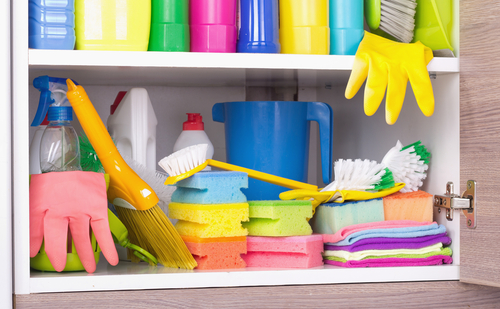 If you are tired of tackling your cleaning products and need someone to help you out, worry no more! Checklist Maids is your perfect cleaning match! We are aware of the potential danger each cleaning product may cause, so we only apply harmless eco-friendly alternatives. 
Our service palette includes comprehensive one-time cleaning, weekly, biweekly, triweekly, and monthly cleaning services, each specially tailored to cater to your needs. Our carefully vetted cleaners' mission is to exceed your expectations with their thorough and safe approach to cleaning. 
Go to the Museum of Modern Art, you have wanted to visit again for ages, and enjoy the astonishing artwork while we clean your home meticulously. Don't wait any longer! Book a matchless cleaning service in only 60 seconds! 
---
---